Vice President Yemi Osinbajo has condemned the attack on the Police Headquarters in Imo State and the Owerri Correctional Centre, calling on Nigerians to reject those he described as agents of anarchy poised to throw the country into chaos.
"We must, therefore, reject the agents of anarchy that are seeking to weaponize the frustration and discontent of our young people for their own profit," Osinbajo said during a one-day visit to Owerri on Tuesday where he also commissioned a road project.
"The path of violence can only lead to a disaster that consumes everyone and leads to the desolation of our communities. It is easy to take peace for granted, but we need not learn the value of peace through the horrible crucible of war."
The former Commissioner for Justice and Attorney General of Lagos State said the attack on the police and the Nigeria Correctional facility is an attack on the safety of the citizens and their well-being.
"When you attack police stations and free dangerous criminals, you put men, women, children and their possessions and livelihoods at risk," Osinbajo stated.
"Whatever the motives of the perpetrators, this action is egregious and atrocious in the extreme, and all men and women of goodwill must openly condemn this assault on the way of life of the good people of the state."
While he admitted that "our system is not perfect – no earthly system is," he said, "democracy provides channels for seeking redress for injury, for peacefully addressing the problems that ail us."
In a statement issued by his media aide, Laolu Akande, Osinbajo was quoted as saying that the attack does not represent the good nature of the Imo State people and the South East.
"And I call on all of us to come together to resist any attempt to turn the progress and peace that this zone is set to experience to conflict and disruption," he added.
The former lecturer assured the people of Imo State that security has been beefed up in the area, adding that the search for the escaped inmates of the Correctional Centre has begun in earnest.
Osinbajo equally lauded the governor of the state, Hope Uzodinma for his calmness and firm handling of the security situation in his domain.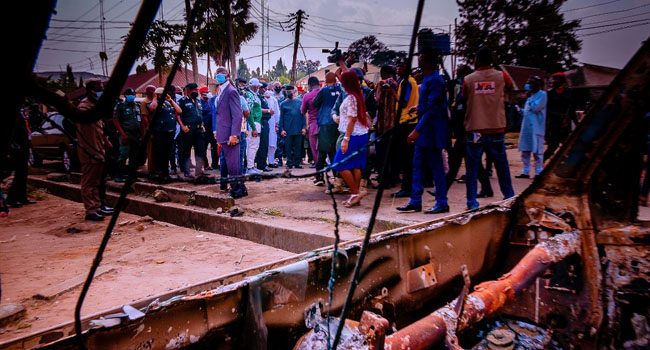 "The Federal Government stands with you and the great people of Imo State at this crucial time," he assured the governor.